CONNECT WITH US Doing business with Bohall & Associates is easy.

Our clients work with a single point of contact until the assignment is completed
We make accessing, ordering and updating an assignment easy and efficient
Assignments begin the same day they are received by us
Same day notification of repossession or assignment resolution
Updates communicated weekly or can be structured more often if requested.
Immediate billing with full documentation

TO LEARN MORE ABOUT HOW A PARTNERSHIP WITH BOHALL & ASSOCIATES CAN BENEFIT YOUR ORGANIZATION, PLEASE CONTACT US:

BOHALL & ASSOCIATES
5330 Primrose Drive
Fair Oaks CA 95628
916-241-9602
www.bohallassociates.com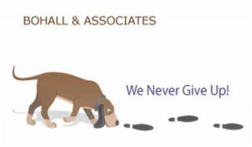 DONMAR INC.

---